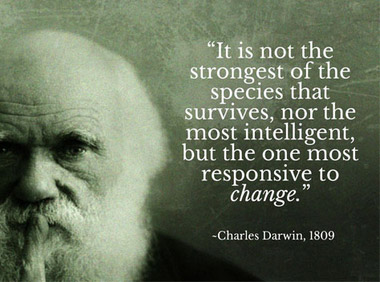 Although it has now been more than 150 years since Charles Darwin described his theory "survival of the species", one can now do the parables of today's business environment. Realizing the need for adaptation and change is a strength that often leads to success. There are many reasons why a company needs to adapt, but the main reason is that our world is in constant change. Companies that do not perceive this change and adapt quickly will get increasingly difficult to survive.
The average life of a company on the american S & P 500 list has been reduced from 50 to 20 years since 1960. Of the companies that were on the Fortune 500 list in 2000 are 40% off today. [Edward E. Lauder and Christopher Worley (2006) Built to Change]
A Gallup survey [State of the Global Workforce 2013] showed that of all the world's workers in 2013 was only 13% engaged in their work. 24% were destructive uninvolved and the remaining 63% were unconcerned and did minimal waiting to go home. In Sweden, it was slightly better with 16% engaged, 12% destructive uncommitted and 72% uncommitted.
It is here that Bizztool has its strength! By putting the individual at the center, we create a commitment that has direct connection with productivity and quality.
We help individuals and organizations to see change as a natural part of everyday business. We have many examples of successful efforts that helped companies to take the next step in their development. Please read more about what we can do for you under each heading.
Want to know more

?

Please contact

us.